The Tri-Parish Youth Group consists of high school students from the 3 parishes and friends of those students from other parishes and other faiths.  Our motto is 'Fun, Faith and For Others'.  We are a faith in action group, where we are out in our community doing service projects.  We visit places that let us experience our faith and doing for others.  We also enjoy working within our parishes to help & serve.  Our youth group teaches all of this to our youth but also helps build college & job resumes by the work that we do!
Come and join the Tri-Parish Youth Group, where learning about our faith is fun! Contact Stacie Powers or email Tri-Parish Catholic Communities.
---
On Saturday, December 8th, the Tri-Parish Youth shopped for a local family to help spread some Christmas cheer!  It was a great morning of learning to stick to a budget, giving to others and sharing the light of Christ.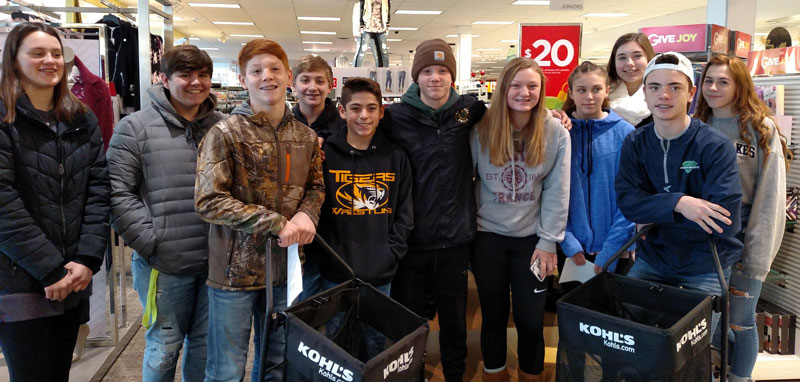 ---
St. Margaret Mary's religious education 2nd annual Christmas caroling at Harvest View took place on Sunday, December 16th! The children in grades 4th – 8th help to spread Christmas cheers by singing carols throughout the halls at Harvest View!  It was a terrific time and some of the residents joined in to make it more special!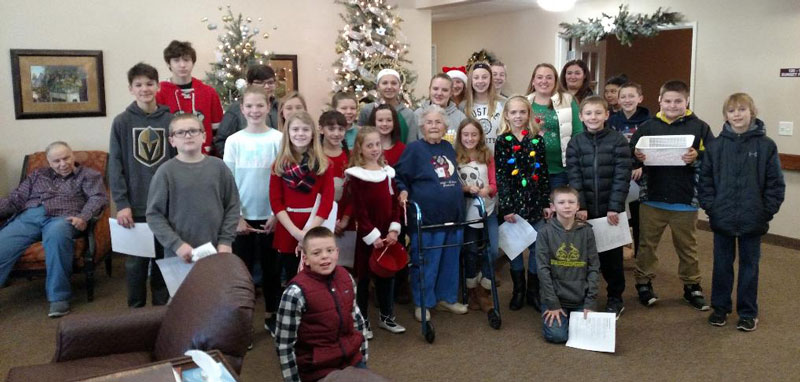 ---
On Sunday April 29th, 7 youth from our parishes spent a sunny afternoon cleaning crates, pens, washing dishes, folding laundry and socializing cats and dogs at the Kankakee Humane Foundation.  THANK YOU to all the parishioners that donated cleaning supplies and dog toys.  The animals and humans were very grateful for the trunk full of donations we brought!  Ask our youth about their experience!