Ecumenical Rally for Racial Justice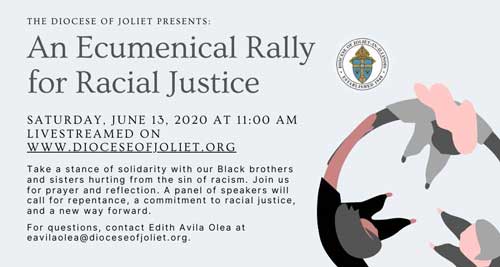 The Diocese of Joliet, University of St. Francis and local Protestant communities are sponsoring a Virtual Ecumenical Prayer Rally for Racial Justice on Saturday, June 13, 2020 at 11:00 am.
In light of recent events with George Floyd and other victims, this prayer rally is intended to express solidarity with our African American and Hispanic sisters and brothers as well as to spur continuing conversion among our fellow Christians to guarantee racial justice in our land. 
Please announce this event as you open your churches and place it on your parish website. All are invited to join us virtually at http://www.dioceseofjoliet.org/. 
I am most excited and grateful for all that you have done in order to open our churches this weekend. Your diligent attention in preparation conveys the great respect you have for your parishioners and their health. 
Sincerely yours in Christ, 
Most Reverend Richard E. Pates
Apostolic Administrator
Diocese of Joliet